In 1979 Mark and Pat Kirschhoffer started a business located at Russell Road and I-94 near the WI/IL border at the family farm.  Kirschhoffer Farms began with two trucks that hauled their own grain. When the trucks where idle it was decided to lease out the trucks to increase revenue. Thus became the beginning of Kirschhoffer Truck Service, Inc.
In 1984 the business became incorporated, and is now widely known as KTSI. The company secured its own 48-state operating authorities and began hauling aggregates with dump trailers for several contractors in the area.  At the time KTSI still continued hauling their own grain as well as grain for various local farmers.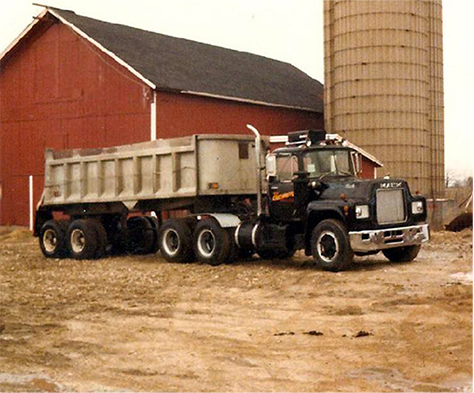 In 1999 KTSI moved from the family farm to ten acres off of HWY 41 at their now present location. The company built a new office building that currently staffs over nine administrative and shop personnel.
Now 32 years since becoming incorporated KTSI's fleet has grown to include over 21 company-owned semis as well as owner-operator semis. While seldom hauling grain anymore the company has diversified the fleet to include not only dump hauling, but flatbeds, lowboys, dry bulk tankers and pneumatic storage pigs